Saved Vehicles

[

00

]
Welcome to My Garage, the modern way to utilize car inventory searches and make it easier for you to collect your vehicles of interest. Now you can personalize your vehicle search with cars that you have recently viewed and saved. If you sign up for our Alerts tool you will be notified by email when a price has been changed or the car has been sold. Our Auto Locator tool will also notify you when a vehicle you are searching for has been added to our inventory. We hope you enjoy using our My Garage tool.
Recently viewed (0)
No viewed cars.
Buy a Used Maserati Levante Trofeo in Greenwich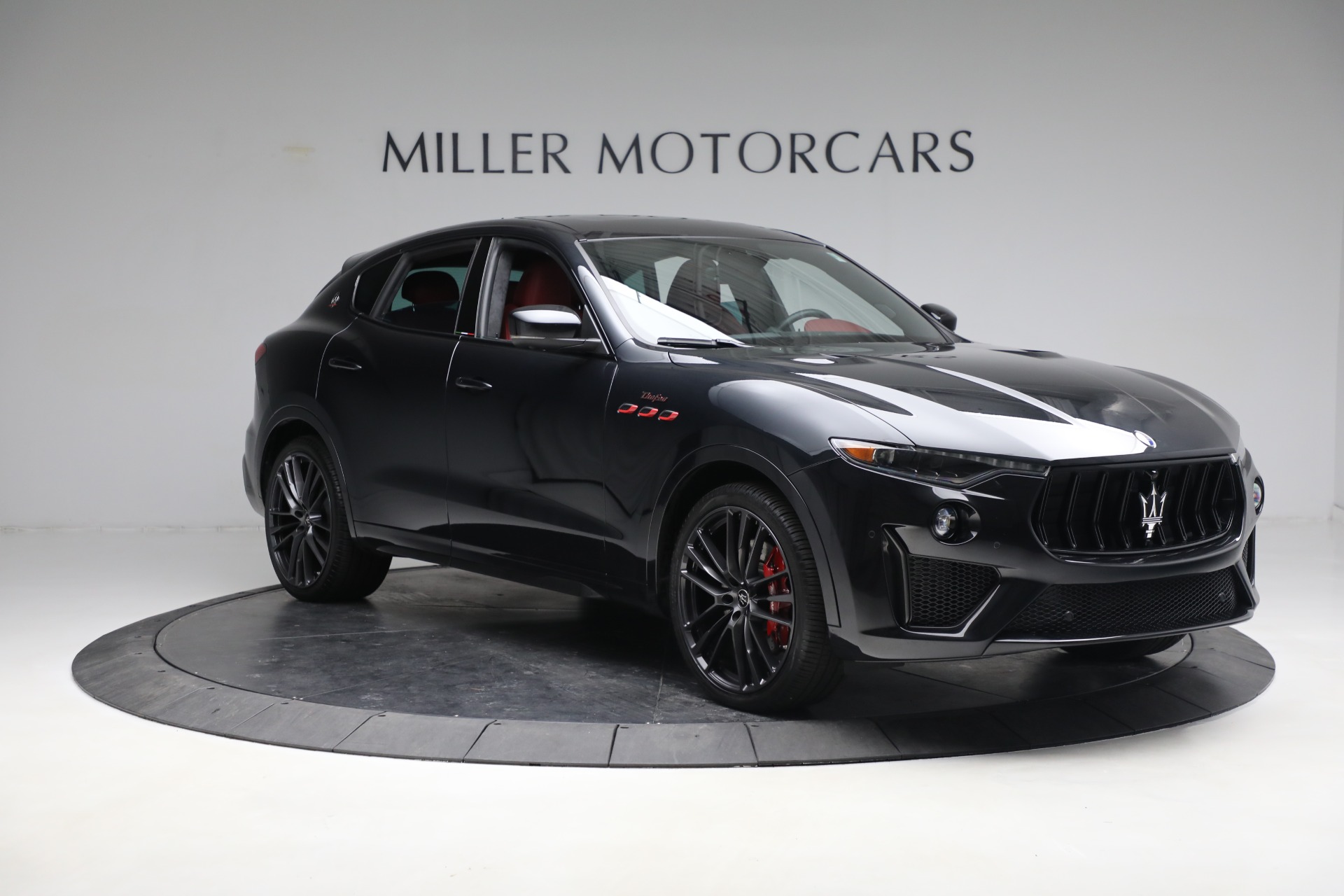 Are you looking for a reliable car to show off your sophistication and style? Look no further than a used Maserati Levante Trofeo. This high-end SUV offers luxury, performance, elegance, and power, making any day or night drive one to remember. With its sleek design and powerful engine, the Maserati Levante Trofeo is perfect for zipping around Greenwich without letting your exceptional taste go unnoticed. Whether you are headed out for a night on the town or just want an enjoyable ride with friends, the Maserati Levante Trofeo has everything needed to get there confidently and comfortably. Read on to discover why choosing this model is worth every penny!
Levante Trofeo Power House
The Maserati Levante Trofeo has a powerful engine. It can go fast and get you to your destination quickly. It has a 3.8-liter twin-turbo V8 engine that is capable of producing 550 horsepower and 538 lb-ft of torque. It also has an 8-speed automatic transmission system that allows for a smooth ride and provides quick shifts when necessary. The engine is mated to all-wheel drive, which helps with handling and acceleration, giving you the confidence to drive in any condition.
Modern SUV Design
The Maserati Levante Trofeo is a luxury vehicle that exudes both style and power. Visually, it impresses with its striking silhouette, low-slung profile, and curves that create an alluring profile. The exterior of the Maserati Levante Trofeo is stunning. It boasts a sleek, modern design with a low-slung profile that is sure to turn heads. The chrome accents on the grille and side windows add an elegant touch, while the 22-inch alloy wheels give it a strong and sturdy look.
Stylish Chrome-Accented Grille
The Maserati Levante Trofeo features a stylish chrome-accented grille that gives the vehicle an even more luxurious look. The chrome accents have been seamlessly integrated into the design, creating a sleek and sophisticated appearance. The grille has been designed with aerodynamics in mind to reduce drag and increase efficiency while driving.
22-Inch Alloy Wheels
The 22-inch alloy wheels on the Maserati Levante Trofeo are designed to provide a smoother ride and superior handling. The high-performance tires maintain optimal contact with the road, allowing for greater control and maneuverability. The lightweight aluminum alloy construction ensures maximum durability while reducing overall weight, making it easier to accelerate and turn.
Beautiful Cabin
The interior of the Maserati Levante Trofeo is luxurious and sophisticated. The cabin has very plush leather seating surfaces, which offer incredible comfort and support while driving. There are plenty of features to keep you entertained, like an 8.4-inch touchscreen infotainment system. The climate control system helps keep you cool in the scorching heat and warm in the winter, while the parking sensors provide a safe and easy way to park your vehicle.
Climate Control System
The climate control system in the Maserati Levante Trofeo is top of the line. It offers several different temperature settings, allowing you to customize your in-car environment according to your preferences. The air conditioning system is designed with dual-zone climate control, meaning there are separate temperature settings for the driver and passenger. The air filter has active carbon filter technology to ensure maximum air quality and help keep the cabin fresh.
Touchscreen Infotainment System
The Maserati Levante Trofeo touchscreen infotainment system offers a wealth of features that make every drive enjoyable. The 8.4-inch touchscreen display is intuitive and easy to use, allowing you to access navigation, media playback, climate control settings, and more with just a few simple taps.
Maserati Levante Trofeo Offers Safety
The Maserati Levante Trofeo comes equipped with a range of advanced safety features.
Automatic Emergency Braking
The Automatic Emergency Braking system in the Maserati Levante Trofeo is designed to help prevent an accident if you are not paying close enough attention to the road ahead. It utilizes sensors that monitor the vehicle's speed and proximity to other cars on the road, and when necessary, it will apply the brakes automatically.
Adaptive Cruise Control
The Adaptive Cruise Control system in the Maserati Levante Trofeo is designed to maintain a safe and consistent speed while driving. It uses sensors to detect the speed of other vehicles on the road, and if necessary, it will adjust its speed automatically to maintain a safe distance. The system also offers several customizable settings, such as the maximum speed, minimum following distance, and coasting feature.
What Makes the Maserati Levante Trofeo Unique?
The Maserati Levante Trofeo is unique among other SUVs due to its powerful engine and sleek, modern design. It offers a luxurious interior and plenty of features to make your trip enjoyable. If you are in the market for a used SUV in the Greenwich area, you can find a great used Maserati Levante Trofeo at Maserati of Greenwich. With its power and performance potential, it is sure to make your journey unforgettable. So don't wait any longer! Head over to our website and book this exquisite vehicle.
Get Yourself a Beautiful Levante Trofeo Now
The Maserati Levante Trofeo is an excellent option for those searching for a luxurious and powerful car rental. Its impressive engine, modern design, and a plethora of features make it the best option for any traveler. Whether you're going on vacation or planning a business trip, this vehicle will make your journey extremely enjoyable and memorable. To get yours today, check out the Maserati of Greenwich inventory. We have a wide selection of vehicles available for rent that are sure to meet all of your needs. So don't delay – book your perfect Maserati Levante Trofeo now!
---
LOCATION
Maserati of Greenwich
321 West Putnam Ave
Greenwich, CT 06830
HOURS
| | |
| --- | --- |
| Monday - Friday: | 9:00AM - 6:00PM |
| Saturday: | 9:00AM - 4:00PM |
| Sunday: | Closed |