Saved Vehicles

[

00

]
Welcome to My Garage, the modern way to utilize car inventory searches and make it easier for you to collect your vehicles of interest. Now you can personalize your vehicle search with cars that you have recently viewed and saved. If you sign up for our Alerts tool you will be notified by email when a price has been changed or the car has been sold. Our Auto Locator tool will also notify you when a vehicle you are searching for has been added to our inventory. We hope you enjoy using our My Garage tool.
Recently viewed (0)
No viewed cars.
Get a Great Deal on a Used Maserati Levante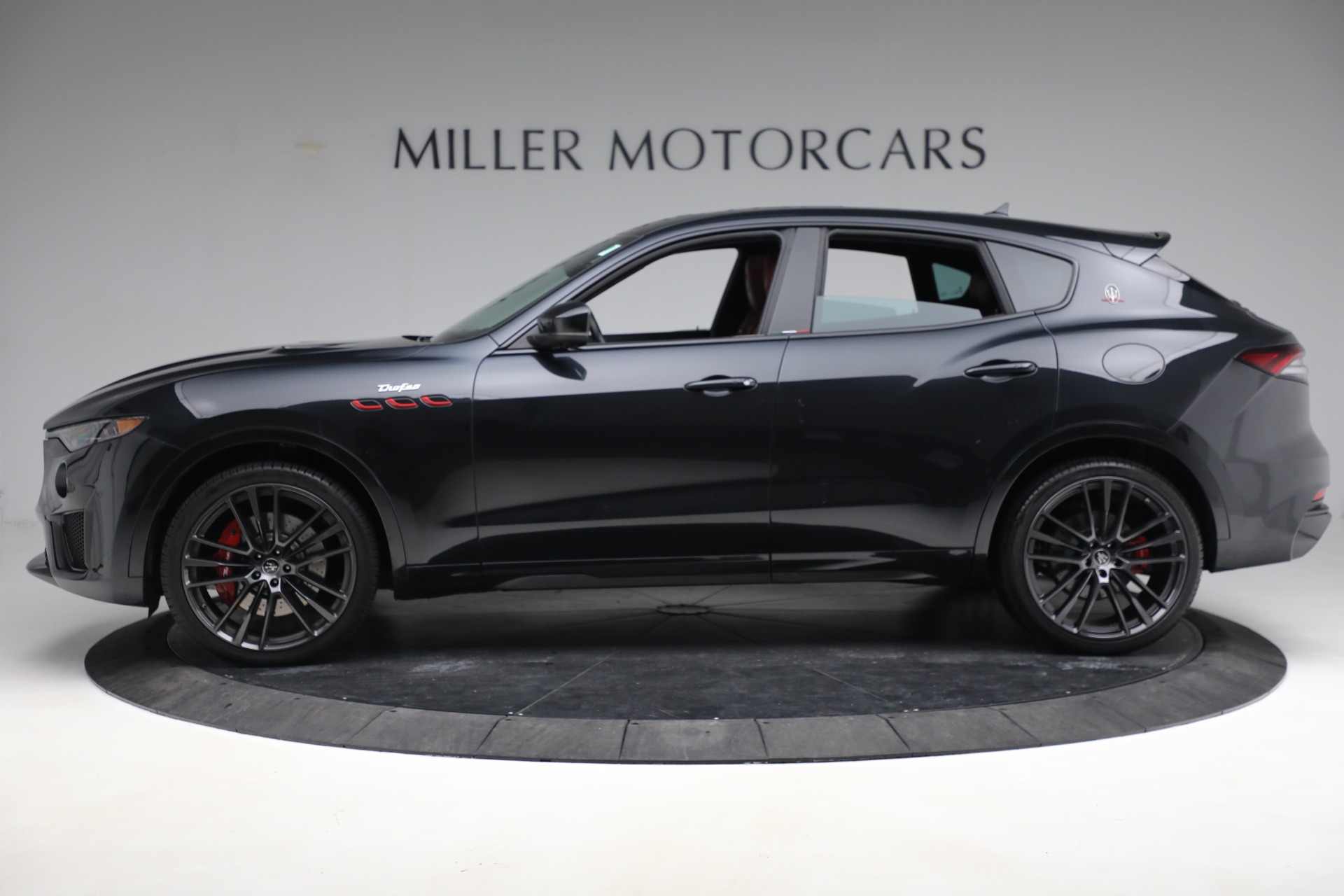 If you've ever dreamed of driving a luxurious and powerful vehicle that embodies both elegance and performance, the Maserati Levante Trofeo is the embodiment of that aspiration. Whether you're seeking to make a statement on the road or experience the thrill of commanding a V8 engine, the Levante Trofeo offers an exceptional driving experience.
As you embark on this journey of exploration, the key to securing your dream lies not only in finding the perfect vehicle but also in navigating the realm of financing options. At our dealership, we understand the significance of this decision, and our team will always guide you through the process of acquiring a used Maserati Levante Trofeo with the best possible financing solution. Secure a great deal that aligns with your financial goals.
Researching and Exploring the Maserati Levante Trofeo Features
A used Maserati Levante Trofeo is a masterpiece of performance and luxury that redefines the driving experience. This exceptional SUV combines the raw power of a 550 HP 3.8L twin-turbo V8 engine with the finesse of an 8-speed shiftable automatic transmission, delivering an adrenaline-pumping ride. Its active suspension enhances both comfort and agility, delivering an exhilarating driving experience.
Interior
The Maserati Levante Trofeo's interior features a heated steering wheel, leather upholstery, and automatic climate control, in addition to dual front and single rear air conditioning zones. Features designed to make your life easier include things like power windows, a push-button starter, an illuminated center console, a multi-function remote, and adaptive cruise control. Controls for the music system, cruise control, multi-function buttons, paddle shifters, the phone, and voice activation are all within easy reach of the driver.
The clock, compass, digital odometer, fuel economy gauge, tachometer, and multi-function display are all part of the vehicle's instrumentation. Leather seats are power-adjustable in 12 ways, including lumbar support, headrest height, and the ability to split into two seats in the back.
Exterior
The exterior of the vehicle showcases active grille shutters for enhanced aerodynamics, body-color door handles for a seamless look, and rear skid plate(s) for added protection. The window trim is elegantly finished in black, complementing the overall design. LED daytime running lights and taillights provide both style and safety. The side mirrors can be power-adjusted for convenience. A power sunshade is available for the moonroof/sunroof, ensuring a comfortable interior. The temporary spare tire is located inside the vehicle. The rear features a wiper with a washer to maintain visibility, and the rear window defogger helps keep the window clear in various conditions.
Safety Specifications
This vehicle's design prioritizes safety, with innovative systems including adaptive cruise control and blind spot monitoring. Forward collision warning with automated braking and lane departure warning helps avoid unintentional lane drift. A full visual perspective from the surround-view camera system aids parking and navigation. The vehicle also has keyless entry, an anti-lock braking system (ABS) to avoid wheel lock-up during braking, and electronic stability control to improve stability during rapid maneuvers. These steps improve vehicle safety, assuring a safe ride.
Various Financing Options for the Luxurious Trofeo
When it comes to acquiring a used Maserati Levante Trofeo, understanding the range of financing options available is essential. Let's delve into the various avenues through which you can secure the funds necessary for your purchase.
Traditional Auto Loans
Traditional auto loans, offered by banks and credit unions, are a common route for financing a vehicle. Banks offer loans with set terms and interest rates, which frequently depend on your credit score. Credit unions, on the other hand, offer member-oriented lending services that can sometimes result in more favorable terms. Both options allow you to spread the cost of the Levante Trofeo over time, making high-end vehicle ownership more manageable.
Dealership Financing
Dealership financing simplifies the process by allowing you to secure a loan directly from the dealership where you're purchasing the Levante Trofeo. While convenient, it's important to carefully review the terms and rates offered, as they may not always be the most competitive. Dealerships typically work with multiple lenders, which could provide options suited to your financial profile.
Online Lenders and Financing Platforms
In the digital age, online lenders and financing platforms have gained popularity. These platforms offer quick approvals and the convenience of managing your loan application online. It's crucial to compare rates and terms from various online sources, as each may cater to different credit profiles. Exploring online options can provide flexibility and potentially more tailored financing solutions.
Lease Options for Maserati Levante Trofeo
Leasing the Levante Trofeo offers a unique approach to enjoying its luxury and performance. Leases involve lower monthly payments compared to purchasing, allowing you to experience a high-end vehicle without the full ownership commitment. The pros of leasing include reduced maintenance costs and warranty coverage for the lease duration. However, there are cons to consider, such as mileage restrictions and the absence of ownership equity.
Lease negotiation requires understanding key aspects, such as the vehicle's residual value and the lease's money factor. These factors influence the terms of the lease, impacting monthly payments. Additionally, negotiating a higher initial down payment can help tailor the lease to your budget. It's important to be aware of potential fees, such as those associated with terminating a lease early or returning the vehicle at lease end.
Greenwich Dealership Financing – The Best Option
Dealership financing stands out as the optimal choice for financing your used Maserati Levante Trofeo, offering a streamlined process and advantageous perks. Leveraging their relationships with multiple lenders, dealerships secure competitive rates and transparent terms tailored to your financial situation. This integrated approach allows you to explore the vehicle and financing options simultaneously, ensuring an informed decision. Experience the pinnacle of performance and luxury with the Maserati Levante Trofeo, backed by dealership financing, at Maserati of Greenwich. With us, you can enjoy the best lease, loan, and even trade-in options. Come and get your Trofeo now!
---
LOCATION
Maserati of Greenwich
321 West Putnam Ave
Greenwich, CT 06830
HOURS
| | |
| --- | --- |
| Monday - Friday: | 9:00AM - 6:00PM |
| Saturday: | 9:00AM - 4:00PM |
| Sunday: | Closed |