Saved Vehicles

[

00

]
Welcome to My Garage, the modern way to utilize car inventory searches and make it easier for you to collect your vehicles of interest. Now you can personalize your vehicle search with cars that you have recently viewed and saved. If you sign up for our Alerts tool you will be notified by email when a price has been changed or the car has been sold. Our Auto Locator tool will also notify you when a vehicle you are searching for has been added to our inventory. We hope you enjoy using our My Garage tool.
Recently viewed (0)
No viewed cars.
Maserati Servicing and Repairs in Greenwich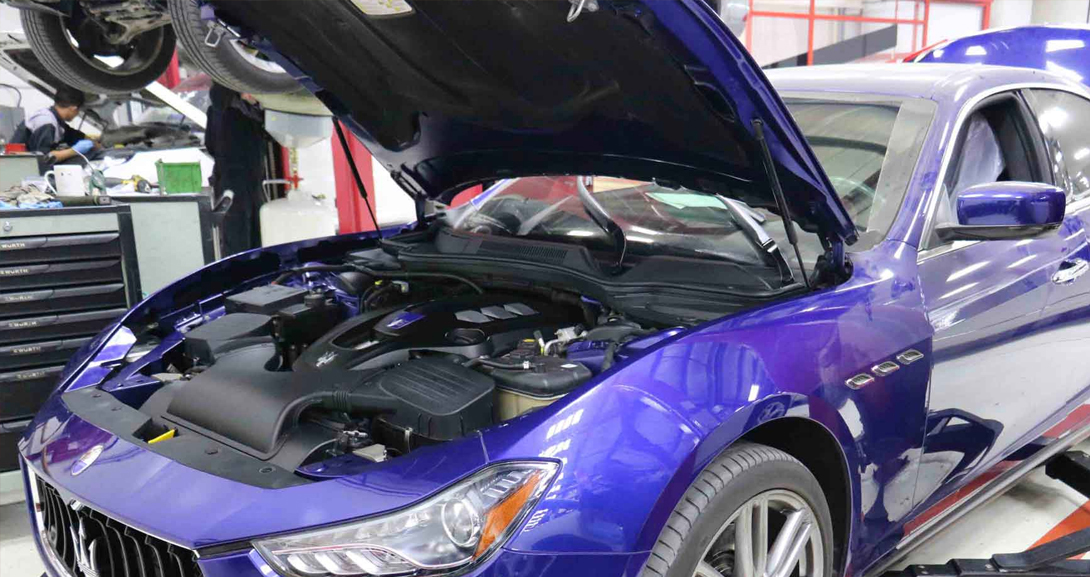 Maserati is one of the world's most iconic and prestigious car brands. It is known for its high-performance vehicles and luxurious designs. At Maserati Greenwich, we offer comprehensive servicing and repairs for Maserati vehicles tailored to your needs. Whether you need routine maintenance on your Maserati or major repairs for a more serious issue, our expert mechanics are here to help.
Why Choose Maserati Greenwich for Your Maserati Repair Services?
Our service center has many years of knowledge working with Maserati vehicles and understands the unique requirements of owning one of these prestigious cars. Our team is fully certified and equipped with state-of-the-art tools and technology to ensure your Maserati service gets the quality care it deserves.
Our service department is highly experienced, fully certified, and dedicated to getting the job done right the first time. Additionally, we offer competitive rates, flexible scheduling options, and a convenient location in Greenwich.
Oil Change
Maserati vehicles require oil changes every 5,000 miles for optimal performance and longevity. Our service shop offers comprehensive oil change services that thoroughly inspect all major systems to ensure your Maserati is running smoothly. We have different oil-changing options to suit your needs and budget, including synthetic oil changes, high-mileage oil changes, and more. For the best result, schedule an oil change with Maserati Greenwich today!
Fuel Filter Replacement
Like all vehicles, Maserati models require regular maintenance and replacement of their fuel filters. Our team can quickly and efficiently replace your fuel filter so you can get back on the road worry-free. You need to do this replacement at least once a year to ensure your Maserati continues to run smoothly.
Spark Plugs
Your Maserati spark plugs play a vital role in keeping your engine running correctly, so it's essential to have them replaced. At Maserati Greenwich, we can quickly and efficiently replace your Maserati spark plugs so you can drive with confidence.
When cleaning and maintaining spark plugs in Maserati vehicles, it's essential to take a multi-layered approach. First, we clean the outside of the spark plug using a soft-bristled brush and a non-corrosive cleaner. This will help remove any dirt or grime that may have built up on the outside of the plug. Next, we use a tester to inspect each spark plug for damage or wear. This will help ensure that your Maserati continues to run smoothly and efficiently.
Transmission Replacement
Whether it's time for a regular maintenance check or your Maserati has been involved in an accident, our mechanics can help with any Maserati transmission repair needs. We'll carefully inspect and replace any necessary components, so your Maserati performs at its best.
We do a thorough diagnostic test to determine the issue in this process. Then we'll work on fixing it as soon as possible. We always use genuine Maserati parts, advanced tools, and technology to ensure your Maserati receives the best care possible.
Brake Inspection
In addition to Maserati-specific servicing, we also offer complete brake inspection services for your Maserati. So, our expert mechanics will get the job done right if you're due for new brake pads or need a new braking system.
At Maserati Greenwich, we take brake inspection seriously. We start with a visual and physical examination of the braking system to identify problems such as frayed brake lines, missing parts, or worn-out components. We will then perform a digital scan of your Maserati's onboard computer to check for any diagnostic trouble codes.
If we find anything that needs to be revised, we'll discuss the problem with you and work on a solution. Whether a simple fix or a more complex one, our team will get the appointment done quickly and efficiently so you can hit the road in no time.
Air Filter Repair & Replacement
Your Maserati's air filter is a critical component that keeps dust and other impurities out of your engine, preventing damage and optimizing performance. Maserati Greenwich can quickly and effectively replace or repair your Maserati air filter to keep you safely on the road.
At Maserati Greenwich, we know Maserati air filters and can quickly and accurately resolve any issue. We'll use the most advanced tools and technology to ensure your Maserati runs at its best.
Timing Belt Replacement
Your Maserati timing belt is essential for keeping your engine running correctly, so it's crucial to replace it as needed. Maserati Greenwich can help with a thorough inspection and any necessary timing belt replacement so you can drive with confidence. For this replacement, we start by thoroughly inspecting your Maserati to identify any signs of damage.
If we find any minor issues, we'll repair them before moving on to the timing belt replacement process. This allows us to ensure that every component is in top condition before installing your new Maserati timing belt.
Wheel Alignment
In addition to Maserati servicing, Maserati Greenwich also offers wheel alignment services for all Maserati models. Our team will carefully align your Maserati wheels for optimal performance and safety on the road.
Cooling System
A cooling system is essential for keeping your engine running correctly, which is why regular maintenance and repair are necessary. Maserati Greenwich offers comprehensive cooling system services, including repair and replacement components, to keep your Maserati running at its best.
Shocks & Struts Replacement
As Maserati vehicles age, the shocks and struts can start to wear down. Maserati Greenwich offers replacements for Maserati-specific parts, including Maserati shocks and Maserati struts, to help ensure your Maserati continues to perform at its best.
Tire Rotation
Your Maserati tires are the essential parts of your vehicle, so it's crucial to keep them in good shape. Maserati Greenwich offers tire rotation services to help extend their life and performance on the road. We also provide Maserati-specific tire selection and installation if your tires require replacement.
Air Conditioner Repair & Maintenance
Maserati vehicles require regular maintenance and repair of their air conditioners to ensure optimal performance. Maserati Greenwich offers comprehensive services, including repairs, replacement components, and routine maintenance checks. Our team will quickly get your Maserati AC up and running so you can confidently drive.
Schedule Your Appointment!
At Maserati Greenwich, we have the tools and experience to keep your Maserati running smoothly and performing at its best. Whether you need routine maintenance or more serious Maserati service repair, our team will do the job quickly and efficiently. So why wait? Call us today to schedule your Maserati servicing or repair needs!
---
LOCATION
Maserati of Greenwich
321 West Putnam Ave
Greenwich, CT 06830
HOURS
| | |
| --- | --- |
| Monday - Friday: | 9:00AM - 6:00PM |
| Saturday: | 9:00AM - 4:00PM |
| Sunday: | Closed |